Main Campus Power Plant
Augmenting two utility-owned substations on the main campus, the UI Power Plant provides energy security to all the main campus buildings. The plant has the capacity to generate 39.6 MW of electricity, as well as steam for heating, cooling, and sterilization.
Built for resilience, the main UI power plant houses multiple redundant generation systems. These include four natural gas electric reciprocating engine generators, three steam turbine generators, three natural gas boilers, and two solid-fuel boilers. The latter are increasingly using biomass to replace coal as a fuel input, in keeping with the University's Path to Zero Coal by 2025 goal.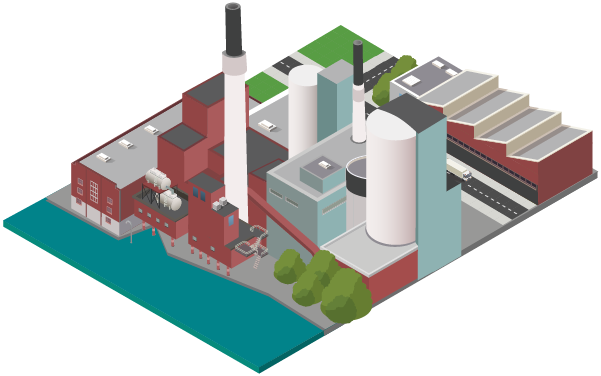 Oakdale Plant
Located on the UI Research Park campus, the Oakdale Utility Power Plant is a trigeneration plant with four natural gas boilers, two natural gas reciprocating engine generators, three chillers, and two satellite chillers. The plant produces electricity, heat, and cooling for over a dozen buildings including the State Hygienic Lab, the UIHC Integrated Services Center, and the Environmental Management Facility. The Oakdale Plant also houses two natural gas reciprocating engine generators and a diesel generator that switch on and provide electricity to the campus' research buildings in the event of a power outage.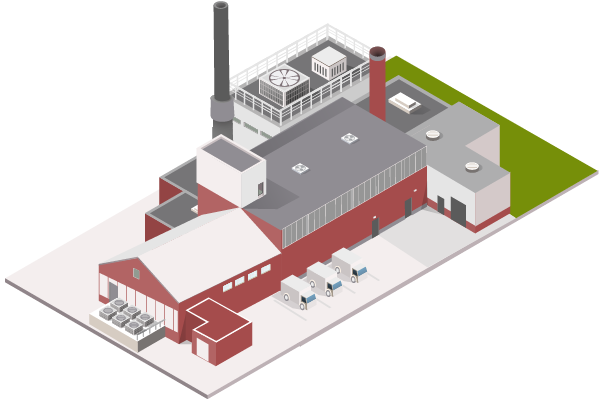 Water Treatment Plant
The University of Iowa is one of the few universities that operate their own water treatment plants. The plant purifies and distributes water across the UI main campus, to academic facilities, dormitories, hospitals, and clinics. Originally built in the early 1960's, the plant has been repeatedly expanded and upgraded to meet increasing demand and to address environmental concerns.
In addition to providing a cost-effective source of water for the campus, the plant also serves as an important teaching facility for future engineers and water treatment specialists. Students work alongside the full-time plant staff members to complete routine maintenance tasks and receive support in obtaining their Grade I and II Water Treatment licenses.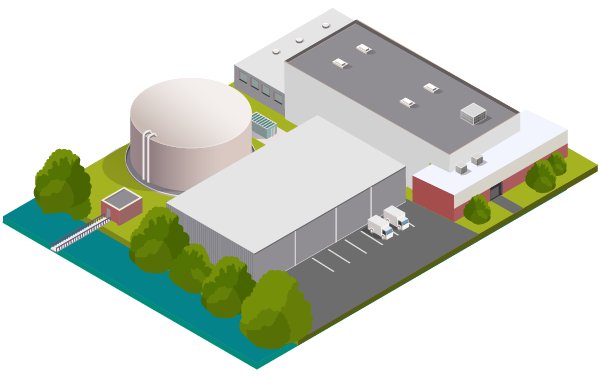 Chilled Water Plant
The University of Iowa primarily uses chilled water to provide cooling for 90 buildings across the main campus. UI's first chilled water plant opened in 1970. Today, the chilled water system has expanded to include four plants and three satellite chillers.
With the advent of increasingly volatile warm-weather seasons, the University of Iowa Energy Collaborative is working to upgrade the chilled water systems so that they can continue to provide necessary cooling to all the buildings, while reducing energy consumption and operating costs.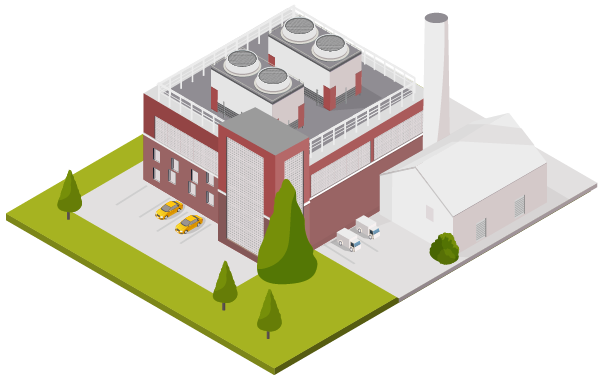 Energy Control Systems
UI's Energy Control Center (ECC) serves as a centralized location for the monitoring, analysis, and forecasting of energy consumption and supply across the university's campuses. Meters on campus buildings transmit data on steam, electricity, and chilled water production and usage to the ECC in real time.
ECC staff use this data to generate internal billing and to monitor the university's progress toward its environmental sustainability and operational efficiency goals. For example, the ECC's careful oversight of campus electricity usage enabled UI to find significant sources of energy savings in the decade from 2010 to 2020. Even though the university added several new buildings, including a new children's hospital, it did not increase its overall energy usage, thanks to the savings it achieved in other areas.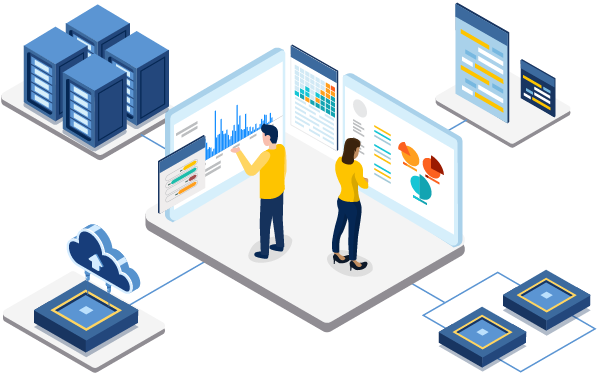 Distribution Systems
UI's utility distribution comprises all the conduits and mechanisms for conveying electricity, water, steam, air, and sewage into, across, and out of the campus. It also includes all the meters and controls for the electrical and mechanical distribution systems.
The Iowa Energy Collaborative is managing this extensive system, which includes some 42 miles of 13.8kV cable, connecting more than 250 building substation transformers and switches. The Energy Collaborative also maintains tunnels, vaults, and direct-buried piping for steam and condensate, chilled water and domestic water piping and hydrants, compressed air, as well as storm and sanitary sewer collection systems. Distribution system functions run over a secure fiber optic network, which is separate from the corporate and university IT networks.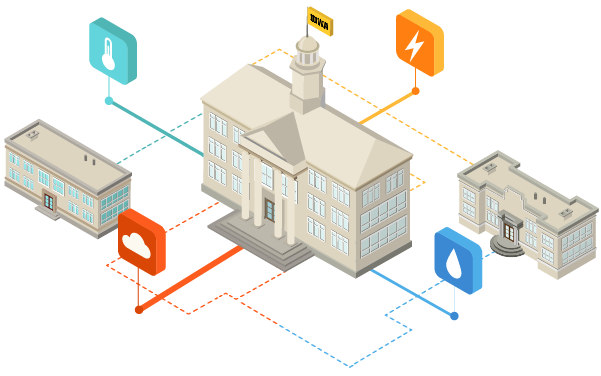 Projects Portfolio
Learn more about the University of Iowa Energy Collaborative's works in progress.
Check back here often as projects progress and new projects are added.
Newer Chillers Lower Temps and Costs
Category:
Chilled Water
|
Phase:
Construction
At the North Campus Chilled Water Plant, a new 25-year, high-capacity chiller will replace three smaller, aging chillers, saving hundreds of thousands of dollars in operating costs. In addition, piping upgrades will make the system more responsive to variations in cooling demand.
Renovated Water Plant Protects Human and Aquatic Life
Category:
Water
|
Phase:
Design
To ensure the efficient, sustainable, and safe operation of UI's potable water treatment plant, the Energy Collaborative will replace the water intake structure and piping. Careful attention has been paid to protect endangered species habitat and to enhance the aesthetic appeal of the riverside structure.
New Boiler Grate Enables Reliable Coal-Free Operation
Category:
Steam
|
Phase:
Construction
The University of Iowa depends on steam boilers to heat campus buildings and provide a portion of campus electricity. To ensure the reliability of a crucial boiler that has transitioned from coal to Convergen fuel pellets, the Energy Collaborative is replacing the grate and related equipment with more durable alternatives.